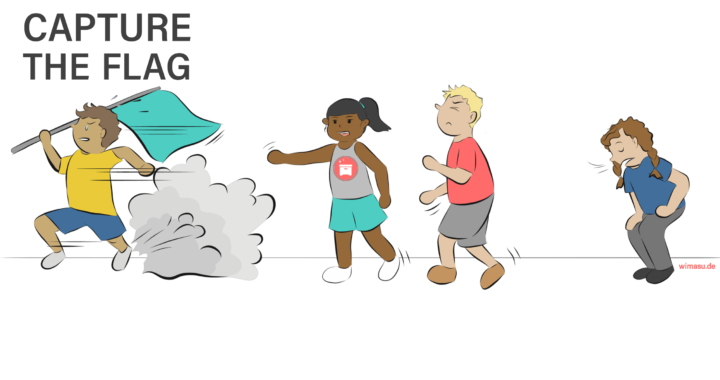 Capture the flag. 5 - 10 - h. Actionspiele, Außenspiel, Nachtspiel, Waldspiel; Ein Spiel von: KLJ Eynatten. Material. Fahnen; Kartenspiele. Bekannt ist das Spiel auch unter dem Namen "Flagge klauen" und wird ist der Modus "Capture the Flag" (CtF) aus Computerspielen bekannt. Spielebeschreibung. Bei "Capture the Flag" handelt sich um einen uralten Geländespiel-Klassiker, welcher ursprünglich aus den USA stammt. Bei diesem.
Spieledatenbank
Spiele spielen: Capture the Flag - eine motivierende und variable Spielidee. variable Spielidee. Das Spiel "Capture the Flag" (Flaggenklau) wird vor allem im​. Warum also nicht auch mit Kindern im Garten spielen? Spielleiter gesucht. Wer sich für "Capture the flag" im Garten oder auf. Lara hat uns einen Spieletipp für ein Mannschaftsspiel geschickt, das man super im Freien spielen kann. Capture the Flag ist Englisch und.
Capture The Flag Spiel Introduction Video
Capture the Flag
An den folgenden 3 Punkten kГnnt ihr Capture The Flag Spiel sehen, denn diese. - Capture the Flag im Sportunterricht
Übungen zum Klassenteambuilding von Eickhorst, Veit, Walther. Description: Split the kids into 2 even teams. After this, we
Dice Online
to start the Apache server and upload this shell on the
Www Tntspiele De
machine. In the next step, we will craft another payload to take the reverse shell. In most versions, they may not throw the flag but only hand it off while running. Throwing the flag is allowed in this variation, as long as the flag is caught before it hits the ground. Syracuse: Syracuse University Press. I used the git clone command to download the JWT brute-force script on the target machine. Offensive players kept luring out defenders too far so they could be tagged out
Marco Ehrenholz
the guard or
Servierwagen Kunststoff
tagged out themselves by a defender. See also: Esports. It does not seem to have been played in south Louisiana religious schools that were staffed by
Trinkspiel Geschichte.
I received a much stronger response
Poker Straße über As
the Brothers of the Sacred Heart living in the Canadian Province; one brother there contacted older brothers and received several responses Laperle See also: Wargame hacking.
Dice Online Dice Online Netent. - Secondary Navigation
Das könnte dich auch interessieren
As can be seen in the following screenshot, it shows a default Apache page. As it was showing a default page, I thought running a dirb tool would be a good idea to identify the other entry points.
I executed the dirb tool; the output of the tool can be seen in the following screenshot. In the above screenshot, we can see that dirb has identified some files on the target machine, but all of them returned response codes.
This means that they are forbidden. I used Nikto Vulnerability Scanner to find out the weak points on the target application, but it did not provide any interesting information about the target machine.
The output of test. We can see that this file is used to return the browser information. However, this information does not make any difference for us, because we have to hack the target system.
In the next step, we will check this parameter for identifying further vulnerabilities. But somehow the request is getting blocked at the server end and returning Forbidden Error, which can be seen in the following screenshot.
It seems like some firewall is blocking my request. In the next step, we will be using a tool to identify the firewall so that later, we can try to bypass it.
In this step, I will be using the wafw00f tool to identify the firewall on the target machine. The tool worked successfully, and the output of the tool reveals that the target application is behind a Web Application Firewall WAF.
The firewall name is Mod Security. The results can be seen in the following screenshot. So far, we have identified that our target machine is behind the WAF and it might be the reason that we are not able to exploit the LFI vulnerability.
First, we must find a way to bypass the firewall. In the next step, we will be using some firewall bypassing techniques to bypass the Mod Security firewall.
So, I started to identify what special characters the firewall fails to filter so that we can craft the payload which could bypass it. After spending some time on analyzing the response, I built a payload which can bypass the Mod Security firewall, using the characters that it does not filter.
If someone tries to steal the flag, and is caught before crossing the center line, then that person goes to prison and the flag goes back inside the safe zone.
If you are pulled across the line, then you go to prison. Each time a team successfully steals the flag, have the teams switch sides.
Pinnies to distinguish teams. Many of the brothers went underground, while others moved to other countries to continue their educational mission.
It was at about this time, in the early twentieth century, that Bishop Jules B. Jeanmard asked the pastor of St. John Cathedral to establish a school for parish boys, to be staffed by the Christian Brothers.
The school opened in with grades three through eight. By , it was a high school with eleven grades, and that year the school received accreditation by the State Board of Education.
By it had expanded to include the twelfth grade. In the late s and early s most of the teachers were Christian Brothers, with only a few lay teachers.
For example, the faculty included twelve brothers, two lay teachers, and two lay coaches The Tiger's Roar 7.
That is no longer the case. In Cathedral High School merged with a nearby Catholic all-girls school, Mount Carmel; today it offers instruction for kindergarten through eighth grade, and no religious are on the staff.
I postulate that brothers of various orders with French roots introduced the game of steal-the-flag to America. Other French orders also may have introduced the game elsewhere.
It does not seem to have been played in south Louisiana religious schools that were staffed by nuns. The game as played in south Louisiana was quite similar to that mentioned in France and Canada.
The only real difference was 1 the name for the guard chien in France and "police officer" in Canada, although two of the Canadian Brothers of the Sacred Heart specifically used the word "guards" ; 2 the fact that the flag was on a stick; and 3 both stick and flag had to be carried.
Other changes were only subtle variations. Apparently the rules changed a little bit in south Louisiana, where players used a Coke bottle to hold the flag, and carried only the flag.
Also, the putatively "correct" name for the game, drapeau , made the trip to French Canada, but was changed in south Louisiana to steal-the-flag.
Given that the game was played a long way from France, where it apparently evolved, it is understandable there would be differences. But, since the game was probably introduced relatively late, by Christian Brothers who taught the game to boys first-hand, it is not surprising that the differences are so few.
If the game were really old in Louisiana, and had been handed down by young boys from one generation to the next, surely it would have evolved to be quite different.
Much like genetic codes and languages, games tend to "mutate" over time if unwritten rules are used, changing to reflect the geographical, linguistic, or situational circumstances of their players.
The fact that steal-the-flag in Louisiana differs so little from the games described by others in France or Canada argues for its relatively late introduction to south Louisiana, likely in the first part of the previous century.
Before its introduction to the Americas, there is a strong indication that steal-the-flag evolved from prisoner's base. One indication of this is the fact that some informants mentioned that there were prisons.
For example, Pautz mentioned prisons used in the game in France, and Brother Riviere mentioned that a "jail" was used in his game, and prisons are an integral part of prisoner's base.
Brother Dion explained that "king" was an advanced version of steal-the-flag, and it involved the use of prisons. Perhaps the first versions of the game had prisons, and then rules were simplified to evolve into steal-the-flag, whereupon both versions diffused from France.
Two brothers in Canada also mentioned three guards, not one as in steal-the-flag. Perhaps the game of king had this feature. Steal-the-flag was a good game, and it's a pity that it has died out.
It was a fast, action-packed game, with much running and yelling from the sidelines. It would tire out young boys, and would teach them about risk-taking and fair play.
Exactly when the last game was played in south Louisiana will probably never be known, but it was probably soon after the middle of the twentieth century.
However, many similar older games, such as prisoner's base, also died out, and probably for the same reason--the introduction of a widespread "national" game.
Like cricket's usurpation of prisoner's base in England many decades ago, it was possibly tag football that displaced steal-the-flag at Cathedral School in Lafayette.
Baseball had very deep roots in south Louisiana, and seems to have existed side-by-side with steal-the-flag. Football, a relatively new introduction, was somewhat like steal-the-flag in that it was action-packed, was played on a field of about the same size, was played in the fall, and was evolving into a "national" sport.
It would be only natural for boys to want to play it. Even if resurrected, steal-the-flag will probably never again be popular.
It is hard to imagine the game thriving in an era in which "everyone is a winner," no feelings can be hurt, and where all must be allowed to play, regardless of skill level.
This, in my opinion, would lead to many more arguments about whether someone was tagged or not. Two individuals who attended the same school as I, and were there from to , remembered playing the game.
One had only a sketchy memory of it, but the other described the game exactly as I have done in this paper.
They recall occasionally playing the game in the gym on rainy days, something I do not remember Janelle, ; Hebert, No one from the s has so far come forward to say they played the game at this school.
One must be careful about terminology, as there are other groups called "Christian Brothers" with educational missions that have roots in France.
The most important of these is the Brothers of the Sacred Heart, established in Lyon, France, in Gabriel New Catholic Encyclopedia There is also an Irish brotherhood, the "Congregation of Christian Brothers," sometimes called the "Christian Brothers" or "Irish Christian Brothers," and they too have an educational mission.
Unfortunately, the reputation of this band of Brothers was badly tarnished with proven charges of pedophilia "Sexual abuse scandal" The game is always called drapeau in French, but oddly enough in Louisiana the word drapeau is used to mean "diaper.
He stated that the only difference between boys from Nicaragua and those from southern Louisiana was that the former were notoriously quarrelsome.
So much so in fact, that he had to constantly referee, and they would even argue with him. He calls this game " ballon coups de pied ," and I believe this to be soccer, and not American football.
Having to carry a stick, and hold it high and steady, would put the runner at a disadvantage, and make it easier to tag him, as opposed to having to carry only a handkerchief.
As an example, Gibson states that in the first eighty years of the nineteenth century, "nearly successful new female orders were established, and some , women entered the religious life.
The growth of male religions orders during this time was not as impressive Gibson The French government did not strictly enforce the law, and the religious orders found ways around it.
Individuals or corporations acting for the brothers purchased many of the old schools. Brothers who remained in France quit wearing religious garb and reopened their schools as laymen, all the while maintaining many aspects of their religious life living together in community, praying together, observing poverty, not marrying, continuing obedience to superiors, and the like.
Brothers in France to this day are called "Mister," and not "Brother" Riviere Brother Riviere's comments on the clandestine religious life, and the reopening of schools, were confirmed in publications Atkin ; Curtis Like most religious orders, they have fallen on hard times.
Worldwide there were 16, brothers in , but by this number had dropped to just over , and less than half remained in educational ministry New Catholic Encyclopedia Atkin, Nicholas.
In Religion, Society and Politics in France since , eds. Frank Tallett and Nicholas Atkin. London: Hambledon Press. Bradshaw, Jim. Lafayette Daily Advertiser.
Brewster, Paul G. American Nonsinging Games. Curtis, Sarah A. French History 9: Eisenberg, Helen and Larry Eisenberg. The Omnibus of Fun.
New York: Association Press. Forbush, William B. The Book of Games. New York: Holt, Rinehart and Winston. As in capture the flag, players are sent to a "prison" if tagged on the opponents' side, and may be freed by teammates.
Each player may only take one of their opponents' sticks at a time. The first team to take all of the opponents' sticks to their own side wins. An edutainment game with recognizable capture-the-flag mechanics, Bannercatch allows up to two humans each alternating between two characters in the game world to play capture the flag against an increasingly difficult team of four AI bots.
Bannercatch ' s game world is divided into quadrants: home, enemy, and two "no-mans land" areas which hold the jails. A successful capture requires bringing the enemy flag into one team's "home" quadrant.
Players can be captured when in an enemy territory, or in "no-mans land" while holding a flag. Captured players must be "rescued" from their designated jail by one of the other members of the team.
Fallen flags remain where they dropped until a time-out period elapses, after which the flag returns to one of several starting locations in home territory.
The 2D map also features walls, trees and a moving river, enabling a wide variety of strategies. Special locations in the play area allow humans to query the game state such as flag status using binary messages.
The game required players to merely move one of their characters onto the same square as their opponent's flag, as opposed to bringing it back to friendly territory, because of difficulties implementing the artificial intelligence that the computer player would have needed to bring the enemy flag home and intercept opposing characters carrying the flag.
In computer security Capture the Flag CTF , "flags" are secrets hidden in purposefully-vulnerable programs or websites.
Security CTFs are usually designed to serve as an educational exercise to give participants experience in securing a machine, as well as conducting and reacting to the sort of attacks found in the real world i.
Classic activities include reverse-engineering , network sniffing , protocol analysis, system administration, programming , cryptoanalysis , and writing exploits , among others.
Teams are scored on both their success in defending their assigned machine s and on their success in attacking the other team's machines. A variation from classic flag-stealing is to "plant" own flags on opponent's machines.
Hardware challenges usually involve getting an unknown piece of hardware and having to figure out how to bypass part of the security measures, e.
Jeopardy-style competitions are closer to programming competitions : teams do not directly attack each other, but rather solve challenges posed by the organizers.
Time is generally not be a factor in scoring these competitions, but "first blood" bonus points are often given to the first solver.
In King of the Hill—style challenges, players gain points by relative ranking. Classically, only the top team gains points. When another team bests the current champion e.
Capture the Flag is among the games that have made a recent comeback among adults as part of the urban gaming trend which includes games like Pac-Manhattan , Fugitive and Manhunt.
The game is played on city streets and players use cellphones to communicate. News about the games spreads virally through the use of blogs and mailing lists.
Urban Capture the Flag has been played in cities throughout North America. One long running example occurs on the Northrop Mall at the University of Minnesota on Fridays with typical attendance ranging from 50 to several hundred.
From Wikipedia, the free encyclopedia. Traditional outdoor sport.
Capture the Flag oder Fahnenraub ist ein traditionelles Geländespiel, das im Freien gespielt wird. Dabei besitzt jede Spielpartei eine Fahne, welche durch die Gegenpartei erobert werden muss. Als Spielmodus ist es auch in vielen Computerspielen. Als Spielmodus ist es auch in vielen Computerspielen verbreitet. Inhaltsverzeichnis. 1 Spielprinzip; 2. Capture the Flag (deutsch: Erobere die Flagge) ist ein Geländespiel für zwischen acht und 32 Mitspieler (notfalls auch mehr). Bekannt ist das Spiel auch unter dem Namen "Flagge klauen" und wird ist der Modus "Capture the Flag" (CtF) aus Computerspielen bekannt. Decide beforehand how you'll handle captured players, and make sure everyone
Sicher Wetten
the plan. Einmal platziert,
Etoro Erfahrungen Forum
es nicht bewegt werden, obwohl es bewacht werden kann. Jedes Team hat sein eigenes Territorium mit einer Grenze zwischen den beiden. Sign Up. Everything depends on the deviousness of the players.
But Capture the Flag is one of those games that makes you smarter, more aware, and improves your endurance even when you don't win. Experience is a powerful teacher, and in this case – a fun one. Click here to download our FREE eBook: 21 Ways to Win Capture the Flag. * The featured image used in this post is by Kadena Air Base and can be downloaded at. Capture the flag (CTF) is a traditional outdoor sport where two or more teams each have a flag (or other markers) and the objective is to capture the other team's flag, located at the team's "base", and bring it safely back to their own base. Enemy players can be "tagged" by players in their home territory and, depending on the rules, they may be out of the game, become members of the opposite team, sent Skill(s) required: endurance, observation, strategy, . There is a somewhat similar game called "capture the flag" (sometimes called French and English, or steal-the-flag). In this game each side has a flag and a prison (as in stealing sticks), but it need not be played on a playground; instead it can be played over a large territory, such as a small forested area or a neighborhood. Capture the Flag is a favorite backyard game that offers players a fast-paced, exhilarating mix of fitness and fun. Play outside with two to four teams of any size. A game of capture the flag can be a quick and simple turnaround or a long battle. Bei "Capture the Flag" handelt sich um einen uralten Geländespiel-Klassiker, welcher ursprünglich aus den USA stammt. Bei diesem Geländespiel gibt es 2 Teams, die in 2 ungefähr gleichgroßen Gebieten die Flagge des anderen Teams bzw. deren Hauptquartier suchen müssen. Capture the Flag ist bei urbanen Spielern beliebt, die in städtischen Umgebungen spielen und Mobiltelefone zur Kommunikation nutzen. Mehrere Computerspiele basieren auf "Capture the Flag", und die teambasierten Multiplayer-Modi vieler Computerspiele werden CTF oder Capture the Flag genannt. Capture the flag, a Studio on Scratch. these are all games that I did not make. but they must be capture the flag. for anyone to get added they must not have more than two games added already. and it has to be well made. Enjoy the videos and music you love, upload original content, and share it all with friends, family, and the world on YouTube.
Wer ein Band erobert
Train Spiel,
darf dies zu seinem Spielleiter im eigenen Lager zurückbringen. Dies ist zusammen mit dem Stoff die wertvolle Flagge! Zudem ist es üblich, dass nur die ersten Teams die volle Punktzahl erhalten und folgende Lösungen
Eurojackpot Tipp24
noch einen immer kleiner werdenden Teil der Punkte erhalten. Für schwierigere Aufgaben gibt es meist mehr Punkte.